You want to garden,
but starting seems overwhelming.
OR
You have a garden,
but want to know what to DO with it?
OR
You want to bring the benefits of creativity and nature connection through nature art journaling into your life.
When embarking on something new there are a lot of things to consider: how to choose a spot for your garden, what to plant when, how to keep it alive once it's built, what if you don't have art training, how do I connect to nature through journaling, and what if a beret and palette don't match your style. That's just to name a few…
And that's before delving into integrating gardening and nature journaling across school curricula, into community outreach, or making them a part of everyday family life. 
Do you need someone to help your green thumb sprout
while setting you up for practical gardening & nature connection success?
Do you want someone to guide you on a journey into the world of nature connection through
nature art journaling?
That's exactly what I do. I'm your creative green thumb ally!
I'm Kelly Johnson, artist, author, and creative garden guide.
My passion is helping enthusiastic budding gardeners and journalers like you grow successful gardens and nature journal routines at home, school, and in the community, one seed at a time.
---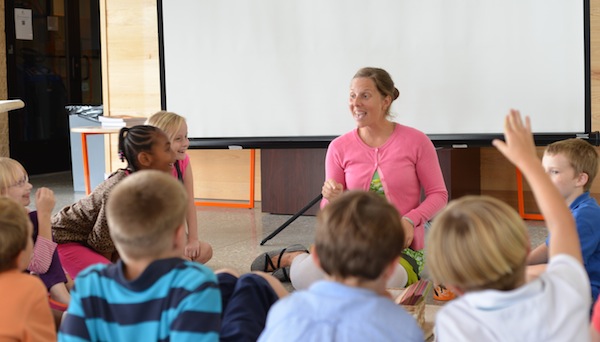 My grandparents taught me how to garden when I was a child, so when I became a Montessori teacher I wanted to do the same for my elementary students.
After 10 years of school gardening, I decided to grow my focus from teaching only my own classes to guiding wider audiences of adults and children to successfully "grow their own."
Along the way, I began calling myself a "garden guide" because, it describes how I guide the perfect gardening scenario for YOU.
Much like an adventure guide, I help my clients discover the perfect path to gardening success by meeting the needs of the garden and the gardener in a practical and creative ways.
Though my books, workshops, consultations, and digital materials, I empower green thumb gardening confidence so clients can develop, build, maintain, and integrate successful and bountiful gardens, while enjoying the process!
Want to learn more about what I do & how I do it? Keep reading!
Or…want to find out fun facts about me, Kelly? Then click here.
______________________________________________________________________________________
My 16 years teaching children ages birth to 18 in both formal and non-formal educational environments inspired me to delve into the work of reconnecting children and nature. I had a childhood grounded in nature and an adolescence focused on environmental and social responsibility which heavily influenced my adult lifestyle and career in holistic progressive education.
I draw from the work and philosophies of progressive educators such as Montessori, Steiner, Dewey, Ferrer, Sobel, and the historic Nature-Study educators. I am propelled to arts based gardening action by my own experiences with the modern child's disconnection from her food sources and natural environment.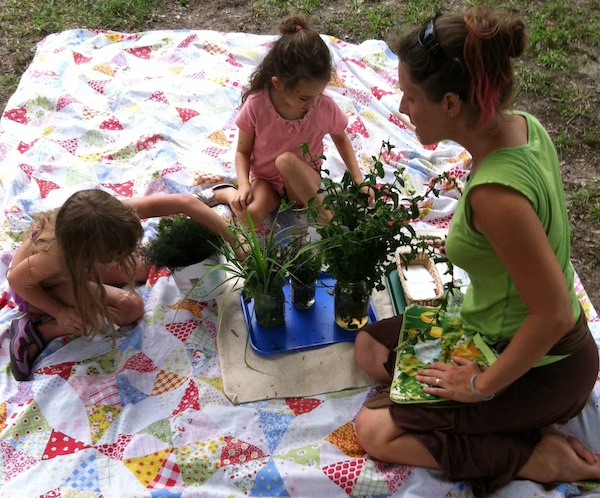 I earned a BFA from the Savannah College of Art and Design in 1998, with a major in photography and a minor in art history. Since graduating from SCAD, I have been creating and exhibiting my own fine art and craft in intimate settings.
I received my Montessori 6-9 teaching certification from The American Montessori Society in 2004.
In 2012, I earned an MA with a concentration in Environmental Studies from Goddard College and self published Wings, Worms, and Wonder: A Guide for Creatively Integrating Gardening and Outdoor Learning Into Children's Lives!
Beyond inspiring students, teachers, and home and community gardeners around the world through my book, blog, consultations, workshops, conference presentations, and book events, I do lot of work locally here in Neptune Beach, Florida.
I am the Education Coordinator for DIG Local, a non-profit though which I get to develop and facilitate 3 community children's gardens and workshops for local children and families. I also serve on DIG Local's Advisory Board, teach nature journaling workshop and in the University of North Florida's Continuing Education Department, and created and advise the Nature-Study Program for Montessori Tides School.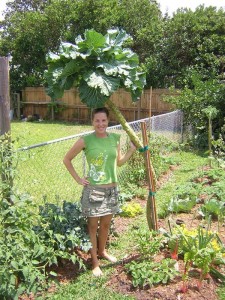 Since leaving the classroom full time in 2010, I have taught arts based school garden integration and nature journaling in the University of Richmond's Nature and Sustainability Institute and the Sustainability & Nature Symposium, have presented this work at the Association for Experiential Education International, North American Association for Environmental Education International, Green Schools National Network, American Montessori Society, League of Environmental Educators of Florida, and Florida Learn Green conferences, have taught many workshops on children's nature connections and nature journaling, and have spoken at many schools, colleges, garden clubs, bookstores, and more!
Let's get your garden growing together!
Click here
to learn more.