Happy New Year!
Let's kick it off right, with a giveaway!!
If you've ever been in a Montessori classroom, one of the first things you notice is the prepared environment. This is no accident. We teachers, spend hours upon hours carefully cultivating the environment to perfectly meet the developmental needs of the children. The environment is a extension of the teachers themselves.
To me, it was always a joy to curate my classroom environment, even when there were 1000 other things that needed to be done. As a teacher in a school, I had a community with whom to share the experience of prepared environments, discipline, academic inspiration, and the general ups and downs of teaching, but Montessori homeschoolers often don't have that community.
Knowing how it's a lot to take on with a team, I know alone in the home the responsibility of crafting the Montessori experience can be daunting at best and feel down right overwhelming at worst.
It's going a one-of-a-kind Montessori conference! This 4-day event is packed with workshops, community, and resources… and it is 100% online!
The Homeschool Summit 2017 has been designed to make the 'conference experience' accessible to all. No matter where you live in the world or what your budget is, as long as you have a computer and an internet connection, you can be a part of this with us!
The Summit consists of three tracks, each with a different focus, 14 sessions total. You can register for the ALL ACCESS PASS which gives you access to all three tracks plus any surprise bonuses or register for individual tracks only! I love the flexibility!
Access the sessions at YOUR convenience -No travel costs. No hotels. Settle into your favorite chair at home and join like-minded homeschoolers from around the globe!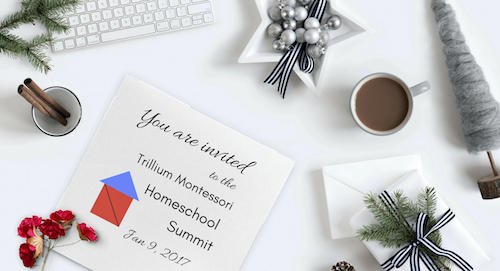 How is Wings, Worms, and Wonder involved with the Summit?
Great question! I'm a Gold level exhibitor in the Summit, which means:
I have awesome bonuses and a raffle for you
I am live in the online community &
I'll be hosting a live session on Weaving Nature through Montessori Curricula with the arts!
What would you most like to learn in the summit to support your Montessori homeschool experience?
Share in the comments below to enter to win!
Share your Montessori Homeschool nature connection pics on Instagram #wingswormsandwonder
---
Seeds to Sprout
Mark your calenders for January 9-12, the summit dates
Comment by midnight est on Thursday, January 5 , to enter to win a spot & check back Friday, January 6, to see if you won
Or if you don't want to chance it, click the link below to
Check out the Trillium Montessori Homeschool Summit 2017 & register here