Fall In-person Nature Journaling Classes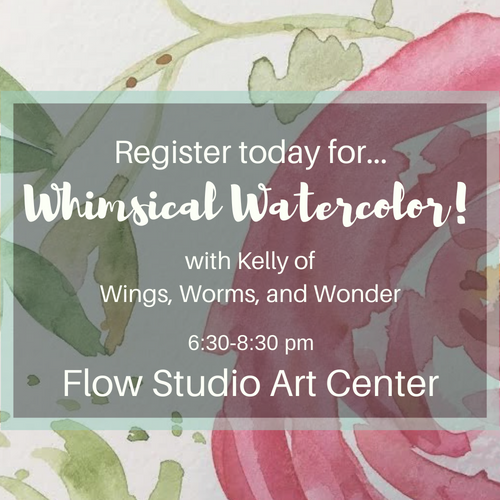 North Florida friends! Join me in person at Flow Studio in Neptune Beach, Florida!
This fall, I'm offering a full & a half day retreat, and 4 single evening classes.
No painting or nature experience required to come out and have some creative nature connection fun!
Find registration for my classes: Whimsical Watercolor, POP! Watercolor, Fall Nature Journal Gathering, & Nature Journaling Fun through the FLOW registration button below.
There are multiple dates, class lengths, and children 9-13 are welcome to attend with an adult.
The Wings, Worms, and Wonder online Nature inspired Art Journaling School offers fun eCourses for all ages at a variety of prices & experience levels – Starting at FREE!
Each course in the Wings, Worms, and Wonder online school includes a combo of:
painting & drawing tutorials,
inspirational & practical info & techniques,
ideas for creating and deepening your nature journal art practice,
unique ways for creatively connecting with nature,
super fun projects,
resources & bonuses for post course nature inspired art adventures,
and a supportive online community to share ideas and ask questions.
In Wings, Worms, and Wonder's online Nature Art Journaling courses, explore through a variety of:
Signature courses that teach creative nature connection through nature art journaling & expanding your nature journal practice techniques  & connections
Courses on color theory & paint mixing, using journal prompts & garden building + art journaling
Workshop courses in painting, cooking, and growing fruits, herbs, & veggies
Facilitated and Self Paced course options
There is something for everyone – and the list of course offerings continues to grow!
Join me, Kelly, your creative nature connection guide as we connect to nature through the arts!
I'll give you an excuse to slow down and creatively connect with the natural world right outside your door, while having lots of relaxing fun!
YouTube Tutorials & Videos
Did you know I have tutorials, journal flips, and nature connection inspiration on the Wings, Worms, and Wonder You Tube Channel?
Check out them out and subscribe for free!